Problem:
Sharepoint Granular backup ends with status code 1
Error:
ERR - Unable to obtain image list. Confirm this client has access to images on server 'MasterServer' for client 'Webserver'
ERR - Refer to the 'Configuring restores for multiple SharePoint Server hosts' section of the SharePoint Administrators Guide for more information
Cause:
If web server and database server are separate, you must  configure "Distrubuted Application Restore Mapping" settings.
Solution:
In the host properties for the master server, configure the Distributed Application Restore Mapping settings.
These settings must contain the mapping for the destination farm. Distributed application must have all the farm nodes of the destination SharePoint farm mapped as components of the source SharePoint front end.
In the "Distributed Application Restore Mapping settings" click "Add" and write webserver as "Application Host" and databaseserver as "ComponentHost"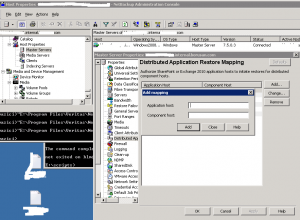 Then reread master server configuration with command:
"C:\Program Files\Veritas\NetBackup\bin\admincmd\bprdreq.exe" -rereadconfig
and try again.
You can find more information in "NetBackup for Microsoft SharePoint Server Administrator's Guide"
Sharepoint Granular Backup "ERR – Unable to obtain image list. Confirm this client has access to images"